Attractions
Wildlife Safari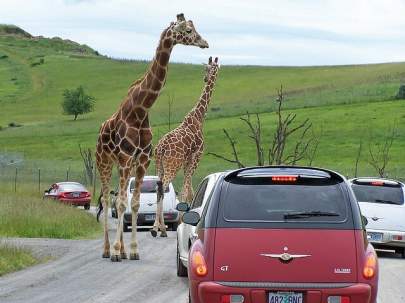 The premier destination in the Umpqua Valley, Wildlife Safari is a 600 acre drive-thru animal park. We recommend planning 2-4 hours for your trip to the safari, longer for an extreme animal enthusiast.
It takes approximately 15 minutes via well marked country roads to reach the Wildlife Safari from the John Rast House.
General Information
Allow Children? Yes children are allowed
Allow Smoking? We are sorry smoking is not allowed
Allow pets? We are sorry pets are not allowed
Is there Parking? Yes there is customer parking
Are there Handicap Facilities? Yes there are Handicap Facilities
Enquire about this Attraction
guestservices@wildlifesafari.net
541.679.6761
Name of Attraction = Wildlife Safari
Type of Attraction = Safari Park
Directions = Just a short drive from Winston in Oregan
Summary = Escape on a wild African Safari Drive Through Adventure and get up close to Ostrich, Watusi cattle, Lions and Zebra. Venture through the homes of hippos and the land of the scimitar horned oryx. Your Safari journey will take you through Southern Africa where the Rhino and Giraffe rule.

Carry on to interpretive wetlands, cleaning the local waters in reaffirmation of our commitment to the soil before venturing into the land of bears, bison and elk within the sprawling canyon forests of North America.
Location
Booking Information
Opening Time = 09:00
Closing Time = 17:00
Adult Price = $21.95
Children Price = $15.95
OAP Price = $18.95
Book Accommodation
Click on the button below to reserve your accommodation
This house is absolutely gorgeous! All of the antiques really add to the historical experience. Parking is super convenient and it's location really can't be beat, loved being walking distance to downtown Roseburg. Cherri was a very thoughtful host and her place was very clean. The backyard is so pretty and welcoming. So glad we got to stay here!
Annika, Oct 2020